I'm so happy a new week is here. Last week was the pits. We got a call on Tuesday morning from our case worker "K." Tucker was sick. Really sick. They were still waiting on test results to tell us what was wrong and at the time they didn't know anything at all. So we prayed and kept the information pretty much to ourselves.
Thursday morning K called again - Tucker was admitted to the hospital. No results yet, but he was getting much worse. Friday morning we finally received the test results in a document along with the doctor's notes from Ethiopia. Of course we couldn't understand the results because they were all in doctor lingo - so we left a message with our pediatrician here and waiting for him to call back. We waited alllll day - he finally called late on Friday.
Basically the results said a big fat nothing. They were completely inconclusive. We had no idea why he was so sick. All we knew was that he was diagnosed with malabsorbtion. The little guy can't absorb his food for some unknown reason. He was losing a lot of weight and according to the doctor in Ethiopia "becoming emaciated." Our doctor gave us reassurance that he was pleased with the care Tucker was receiving and that they were doing everything right. He said if he was there he would be doing the exact same thing. So, Tucker was put on a specialized diet of pre-digested food. That way he doesn't have to worry about digesting it - just absorbing it. He's also receiving several meds through an IV in his head.
We got another call from K yesterday -- Tucker was discharged from the hospital and is back at Hannah's Hope!!!! He is doing much better, but is still a very sick little boy. He has gained less than one pound in the last 9 weeks. When he was 4 weeks old he was in the 20th percentile for weight... he's not even on the chart anymore, he's dropped wayyy below.
Please pray for our little dude. I wish I could show you pictures because he is the cutest little thing you ever saw and he has the brightest eyes. I just want to get him home. Only one more month til he's in my arms!!! Until then - we would love to have the world lifting our little boy up...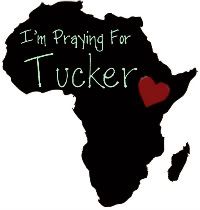 **Just in case anyone is wondering why we didn't share this sooner and why I haven't been answering my phone much... it's because I haven't really wanted to talk about it. It was a very hard week for John and I with a lot of tears. To be honest, the last thing we wanted was to talk about it with other people before we were even able to process the information ourselves. Even now, I still don't like to talk about it with others much. We know that God will take care of him and right now we just want to take comfort in that fact and leave it be. BUT - we SO SO SO appreciate your prayers and support!! :)
©2009 Living By Faith